Be excited about the fabulous Hong Kong panoramic view!
Sky 100
As stated, Sky 100 is located on the 100th-floor observatory in Hong Kong. On the sea level of 393m height, from the observatory, you can view Victoria Harbour, Central, and the Tsim Sha Tsui area. The observatory and elevator are both the visiting spots. Enjoy the thrill of 60 seconds of speed, reaching the 100th floor swiftly. Plus, you may feel the difference by the Sky Terrace 428 of the Peak Tower, which will provide you with different charm by enjoying the view inside rather than outside. We recommend it for people who prefer to avoid standing or being outside or are worried about draining from hot weather. Get this chance to see all of the harbors in your eyes and admire A Symphony of Lights!

Go for ride a high-speed elevator!
Sky 100 is Asia's top double-deck elevator to reach the 100th floor in only 60 seconds. That's why you will have fun by just staring at it. Besides, the construction of the elevator is so charming and attractive that it gives an adrenaline rush and a touching moment from going up to the 100th floor. I can guarantee you would want to take advantage of hopping on the elevator to feel the thrill and excitement throughout the elevator ride!

Get to meet the Hong Kong Skyline on the 100th floor!
Where is the best viewing spot in Hong Kong? Yes, indeed it is, Hong Kong Sky 100! Reach out to the Sky 100, the 100th floor, by fast and quick 60-second elevator, the highest out of all of Hong Kong city, and check out 360 degrees panoramic view in building ICC.

Plus, put all the worries behind being burned down by sunlight because you can comfortably see the whole city of Hong Kong inside the observatory.

Don't miss out daily 6:30 PM night light show!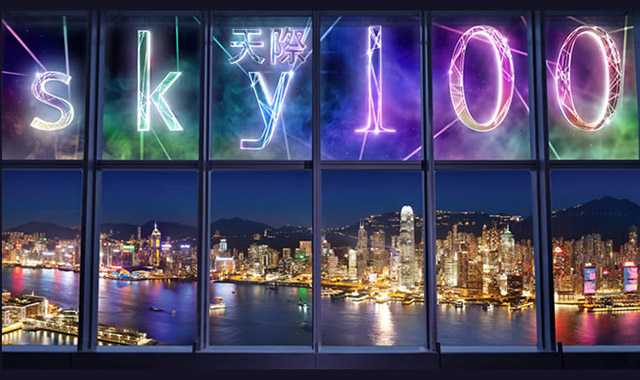 Treat yourself with a backdrop of Victoria Harbour's large framed light show with glittering as "Love is in the sky." One of the exhibits in Sky 100 you must see opens every night at 6:30 PM. This is a must-stop area if you plan to visit Sky 100 in Hong Kong!

Enjoy SmarTone 5G LAB!
By SmarTone 5G Lab, you can attain Hong Kong's panoramic view while allowing you to experience 5G applications, entering a new era of 5G! Likewise, "5G LAB" consists of different exhibitions, so families and all kids learn about 5G in detail and explore through it.

Operation hours are daily 10:00 AM - 8:00 PM (YET, "Real-time 5G driving battle" ends at 7:00 PM).

SmarTone "5G LAB@sky100" Guided Tour
Tour Itinerary: Daily 11:00 AM - 18:45 PM (Tour departs every 15 minutes)
Duration: About 23 - 30 mintues
Quantity of participants: Each tour has a maximum 30 people
Language: Cantonese/English
How to participate: You can register the 100th-floor observatory customer center on the day of the visit, yet 14:00 PM - 15:00 PM, 17:00 - 18:00 PM, the guided tour will not be held.

Café 100 by The Ritz-Carlton is a tryout!
Delight yourself on fascinating clouds and a sea view while having coffee and dessert! Café 100 by The Ritz-Carlton is a perfect spot to try out various food with eye-grabbing sights. If you stop by Sky 100, we recommend also stop by Café 100 by The Ritz-Carlton. Anyone willing to go for Café 100 by The Ritz-Carlton, click here!

Reasons to purchase from WAUG!
WAUG is the official partner of Sky 100 Hong Kong, and you can buy tickets at a cheap price. Use it immediately after the purchase, and make your life easier by getting convenient. Spend a romantic moment by having fun at Sky 100 in Hong Kong.