Unlock the best attractions in Seoul with the mobile Discover Seoul Pass! Buy a 24, 48, and 72-hour pass and get access to over 65 attractions and facilities like N Seoul Tower, Lotte World Adventure, and COEX Aquarium. With the mobile pass, you won't have to pick up the physical card or carry one to enter attractions. You can also learn more about the partner sites and check the pass's remaining validity time. Make the most out of this travel card when you ride the E Cruise or hop aboard the Seoul City Tour Bus at no additional cost. Also get shopping discount benefits from 117 sites including Shinsegae Duty-Free Myeongdong, The Shilla Duty-Free Seoul Store, Hyundai Duty-Free Department Store, and others. Book a Discover Seoul Pass Mobile (1, 2, or 3 days) at a discounted price today!
▲ Enter Seoul's top attractions and receive shopping discounts with the Discover Seoul Pass Mobile!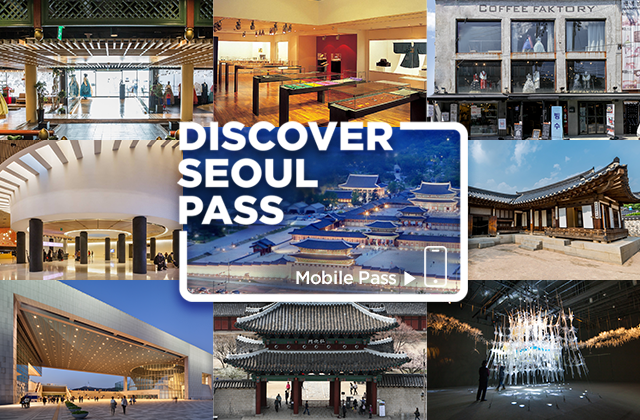 ▲ Get free admission to over 65 attractions and facilities in Seoul and nearby cities
▲ Make your way to the National Museum of Korea, Leeum Museum, and Seoul Children's Museum for free!
▲ Enjoy automatic admission to the famous palaces in Seoul, such as Gyeongbokgung and Changdeokgung
▲ Save money when you explore Korea with the Discover Seoul Pass Mobile!
PASS BENEFITS
1. Free Admission (65 facilities)
History: Buseoksa Temple, Changdeokgung Palace, Changgyeonggung Palace, Deoksugung Palace, Gangneung Royal Tombs, Gyeongbokgung Palace, Heolleung and Illeung Royal Tombs, Jeongneung Royal Tomb, Jongmyo (Royal Shrine), Korean Folk Village, Seodaemun Prison History Hall, Seolleung and Jeongneung Royal Tombs, Taereung Royal Tombs, Uireung Royal Tomb, Yeonghwiwon Royal Tomb, Mokdong Icerink, Zoolung Zoolung—Times Square Branch
Museum: Bukchon Traditional Museum, Homigot Tourist Area (New Millennium Memorial Hall), Ilmin Museum of Art, Korean Museum of Straw and Life (offering welcome gift), Leeum Museum of Art, MUSEUM KIMCHIKAN, Museum of Japanese Colonial History in Korea, Nakdonggang National Institute of Biological Resources, National Museum of Modern and Contemporary Art, Seoul, PRESSEUM, Sangju Bicycle Museum, Sangju Museum, Seoul K-Medi Center, Seoul Science Center, Suwon Ipark Museum of Art, Eunpyeong History & Hanok Museum, Gahoe Museum, Gyeomjae Jeongseon Art Museum, Seoul Children's Museum, SPACE K
Entertainment: 63 Square, Alive Museum, Aquaplanet Ilsan, COEX Aquarium, Colorpool Museum, Daejeon Expo & Hanbit Tower(Tower of Great Light), Daejeon O-World, E CRUISE, Figure Museum W, Football Fǽntasium, Gwangmyeong Cave, Gyeongju Expo Park, HANBOKNAM, Lotte World Adventure (Ticket Box: Wild Gate), N Seoul Tower, NAMI ISLAND, Pieces of Time: Seasons, SBA Seoul Animation Center, Seoul Battleship Park, Seoul City Tour Bus (Red Bus), Seoul Zoo & Sky Lift, THE GREEM, Yellow Balloon City Bus
Transportation: AREX (Airport Railroad Express), K Limousine, Ttareungi(Seoul Public Bicycle)
Travel: Foreign Tourists Korea Traveler's Insurance, SKTelecom
2. Discount Offers (117 facilities)
Performance: JUMP, NANTA, National Gugak Center, PANGSHOW PANGPANG CRUISE, The Painters HERO
Entertainment: Dynamic Maze, Korea Bike Tour, Look Here Studio, Lotte World Tower Seoul Sky, Seoulland, Ui-wang Railpark, odt.mode (Gangnam Station Branch), odt.mode (Hongik Univ. Branch), odt.mode (Hyundai Dept. Store Sinchon Branch), odt.mode (Konkuk Univ. Branch), odt.mode (Shilla Stay Guro Branch), odt.mode (Shilla Stay Mapo Branch), odt.mode (Shilla Stay Samseong Branch)
Shopping: Better Than Alcohol, Cheongwadae Sarangchae Souvenir Shop, EATH Library, Hyundai Department Store Duty Free, KCDF Shop, KongKongY, Rejin, Sangsangdamda, Sarang (Changdeokgung Palace Information Office), Sarang (Changdeokgung Palace), Sarang (Deoksugung Palace), Sarang (East Wing, Incheon Airport Terminal 1), Sarang (East Wing, Incheon Airport Terminal 2), Sarang (Gyeongbokgung Palace), Sarang (Korea House), Sarang (National Palace Museum of Korea), Sarang (West Wing, Incheon Airport Terminal 2), Seryung, Shilla I'Park Duty Free, The Shilla Duty Free Seoul Store
Experience: 1:1 Language Exchange, Bitda Ceramic Studio Hongdae, Byulgungteo Hanbok, Cheong Chun Il Hwa, Colorful Makgeolli, Daknury, DIY Inlaid Lacquerware Art, Donglim Knot Workshop, Dorothy Hanbok, Drawing Space, Drawing Traditional Korean Caricature, Euljiro Alley Experience, Fanta-stick Korea Culture Experience Program (COREART), Geumhaerang Korean and Chinese Characters Education Institute, gigibebe Hanbok Rental, Glowe, GN Perfume Studio, Grupam, Hanbok That Day, Hangang River Water Leisure Sports, Hangeul Class, HELLO_K_COOKING, Hwanghakjeong Korean Archery Gallery, Ink-wash Painting Outdoors, Inlaid Lacquerware Art, KING STUDIO, KnoTSoo STUDIO, Korea KICKtennis Association, K-POP Experience, K-POP X Korean Drums, KRIA Rattan Studio, Kum Bak Yeon - Gold Leaf Imprinting Workshop & Studio, Levien, Make a Hangeul Necklace, Make a Korean Dessert, Make Rice Cake with Red Bean Paste, Making Animal Pom-Pom, ModooRock, Music Drama , Nenadelllee, Ohui & Whoo Spa Myeong-dong, Queens Bucket, Real K-POP Dance, Seal Engraving Experience Program, SNAPZONE, Soul Craft, SOUVELAND, Space Hue - Geumhwadawon, Splendid Scent, SW Atelier, Taekkyeon Experience, Taekwondo Experience, Tium, VROAD Dance Studio, WeRide Seoul Bike Tour, Yangjae Flower Market Tour, Yacht&Boat Tour(Golden Blue Marina)
Museum: Savina Museum of Contemporary Art, The Han Sang Soo Embroidery Museum, Ttukseom Museum
History: Dosanseowon Neo-Confucian Academy, Hahoe Village in Andong
Transportation: West Boat House Songdo
Travel: Artee Riders' Club (Bukchon Pedicab Tour), SAFEX, WiFi Dosirak Pocket Wi-Fi Rental
Others: CHOPHAIR (Gangnam Branch), CHOPHAIR (Hongik Univ. Branch), CHOPHAIR (Jamsil Branch), CHOPHAIR (Konkuk Rodeo Branch), CHOPHAIR (Nowon Branch), CHOPHAIR (Sinnonhyeon Branch), Chung-Ang University Hospital, GANGNAM ARUMDAUN NARA, Guwol Oracle Dermatology, House of Strength, Le virgule spa, Myun Yeok Gong Bang Black, Sarang (West Wing, Incheon Airport Terminal 1)
Visit the official website here for more information.