New York Whitney Museum of American Art Admission Ticket
Highlights
Take time to enjoy American art from the 20th century at the Whitney Museum of American Art in New York
You will be able to see various masterpieces including the artworks by Edward Hopper
Meet these amazing works by Edward Hopper, Andy Warhol, Jacob Lawrence, and many other artists
Discover art pieces by newly rising artists
You can go on a free guided tour as well to make your experience more enriching
Program
Meet world-famous artworks from the 20th century to the present day at the Whitney Museum of American Art in New York. You will get to see over 21,000 art pieces such as paintings, sculptures, photographs, and videos of over 3,000 artists. Not only you get to see works by Edward Hopper, Andy Warhol, Jasper Jones, and many other American artists, but also special exhibitions and permanent collections. After viewing the exhibitions, how about a tasty meal at the public garden or the restaurant inside the museum?
▲ Meet over 23,000 art collections at the Whitney Museum.
▲ Find out why the Whitney Museum is considered to be one of the best places that hold American contemporary art.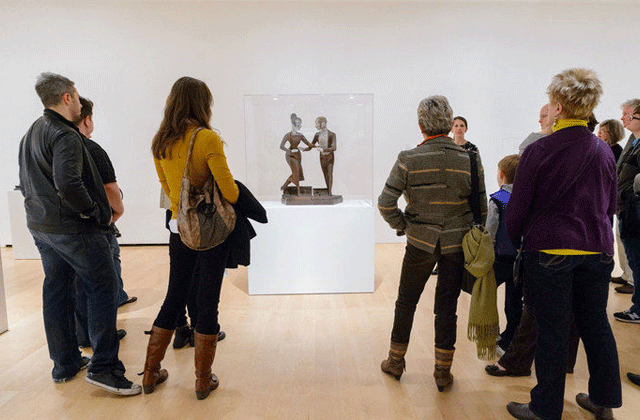 ▲ Discover artworks from a half-century ago to works of the present day.
▲ Spend some leisurely time out on the balcony.
▲ You can also enjoy the cafe & restaurant located inside the museum.
What's Included
Admission to the Whitney Museum of American Art
How to Use
Once confirmed, the voucher will be sent to your email or mobile app.
Please exchange the mobile voucher for a physical ticket at the Advanced Ticket Sales Desk.
Exchange is not required for a printed voucher.
This voucher is valid only on the scheduled visit date.
Address :
New York Whitney Museum of Art
99 Gansevoort St, New York, NY 10014
Please find the location on Google Maps
Opening Hours :
Monday: 10:30 - 18:00
Wednesday: 10:30 - 18:00
Thursday: 10:30 - 18:00
Friday: 10:30 - 22:00
Saturday: 10:30 - 22:00
Sunday: 10:30 - 18:00
Closed on Tuesdays
What to Remember
Free admission for age 17 and below.
One free child entrance is permitted per one adult.
This voucher is valid only on the scheduled visit date.
Age 19 and above is classified as Adult and age 18 and below is classified as Child.
Discounted tickets are available on-site for seniors age 65 and above. (Need to show passport)
If you bring a printed voucher, you can enter right away without stopping by at the ticket booth.
Cancellation
Once confirmed, no cancellations will be made.
Available today
New York Central Park Bike Rentals
Available today
Blue Man Group in New York
Available today
Bateaux New York 2-Hour Luxury Sightseeing Lunch Cruise