Available from Jul 22, 2019
Kyoto Shinkansen Nozomi (fromo Shin-Osaka)
Highlights
Take the Shinkansen and quickly move to Kyoto Station, the city with the most authentic Japanese atmosphere in Shin Osaka
Only 11 minutes to Kyoto! It is so fast that it is easy to move
Enjoy the most luxurious trip by taking Nozomi(のぞみ), highest-class train on Shinkansen
Since it is a reserved seat, you don't have to worry about standing whole time on your journey
There are no reviews, yet. Be the first one to write a review!
Program
Visit all the essential spots in Japan by taking the Shinkansen Nozomi Line. Your trip will be made a lot easier and faster, giving you more time for sightseeing. Besides, the Shinkansen, Japan's high-speed bullet train, is not just a mode of transportation, but an experience in itself that you should not miss out on. WAUG offers a range of Shinkansen deals including Osaka to Tokyo route, Kyoto, Nagoya, Okayama, and Hiroshima routes. Experience Japan's top-notch technology at a more affordable price!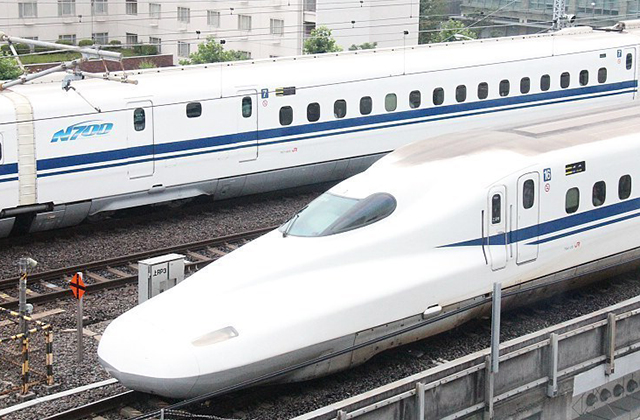 ▲ Travel around from Osaka to Kyoto with the fastest train in Japan!
▲ Every seat is very cozy and comfortable!

Travel Tip
There are 3 types of Shinkansen in Japan: Nozomi – Hikari – Kodama. The more stations you stop, the longer it takes. The fastest train is the Nozomi train because it stops the least. And all WAUG Shinkansen tickets are for Nozomi train, and it takes only takes 12 minutes from Osaka to Kyoto! You will be amazed by the speed of Nozomi!
What's Included
Shinkansen Nozomi Ticket from Shin Osaka to Kyoto (designated seat)
How to Use
Once confirmed, the voucher will be sent to your email or mobile app.
Please present the printed or mobile voucher at the redemption point and exchange it for a physical ticket.

(Pick up is only available at the Osaka Kansai International Airport after June 5th)

This voucher is valid only on the scheduled visit date and time.
Select the date as the exchange day in Osaka when purchasing.
Please purchase at the exact date of use (Osaka local exchange day).
Please make sure to check the ticket receipt date and boarding date separately.
Redemption Point :
1. Osaka Kansai International Airport Terminal 1 :
HIS Counter at the North Gate of Arrival Hall (1 Floor)
Open daily 08:30am - 22:00pm
Click here to view the picture of the HIS counter.
2. EDION Namba Tourist Information Center
Osaka, Chuo-ku Namba 3-2-18 Edion Namba Groundfloor. 2 minutes walk from Nankai Namba Station
Operating hours: 10:00 am - 21:00 pm.
Check out the entrance with picture here
Please select the redemption point where you will visit to redeem a physical ticket.
What to Remember
It is non-refundable after payment. Please purchase carefully.
If you want to change the date? You can only change it at JR Green Window after payment.
You need to make a quick reservation in advance (tickets are sold out quite often).
In the case of full booking, your reservation will be canceled automatically and fully refunded. Please check your e-mail for any updates on your reservation
Please redeem your voucher at least 1 day before the use date.

The available departure time that you can reserve is between 06:30 am and 22:00 pm. When making a reservation, please clearly indicate the time you want to board.

e.g. on February 3, 2019, between 14:00 pm - 15:00 pm
This ticket is for foreign visitors only. (not Japanese)
Baggage Allowance
Size: Only within 250cm in length, width, and height
Weight: Only carriers less than 30kg can be brought in.
Only 1 baggage per person
Physical Ticket Pick-up Information
Customers who have made

reservations after June 5, 2019

will not be able to receive the physical ticket Nanba Station. It is only available at

Osaka Kansai International Airport Terminal.

Customers who made reservations before June 5, 2019 can receive at both Namba Station and Kansai International Airport Terminal after even June 5.
Cancellation
Once confirmed, no cancellations will be made.
Available today
Kyoto Tower Observation Deck
Available from Jul 26, 2019
Kyoto & Nara Main Attraction Bus Tour (from Osaka)
Available from Jul 22, 2019
Kyoto Shinkansen Nozomi (fromo Shin-Osaka)