Available from Jul 23, 2019
The Lion King Broadway Show Ticket
Highlights
Watch the Lion King, one of Broadway's most beloved musicals
Check out the beautiful costumes in the Lion King musical
Enjoy listening to musical songs during the performance
It will be a special experience to watch Disney's animation on the stage
Program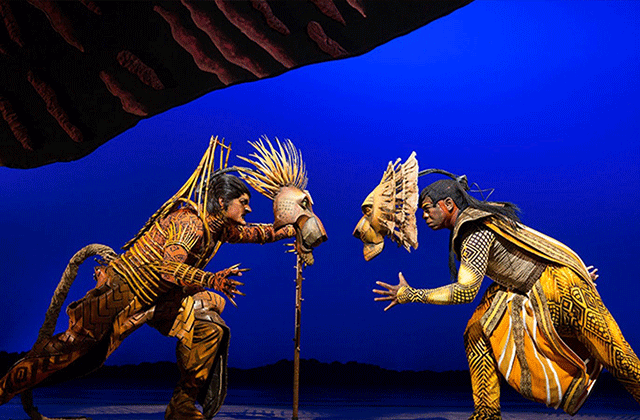 Lion King is one of the masterpieces of Disney. This animation, which was produced in 1994, is still loved by many people. You can listen to the musical Lion King on Broadway, which reproduces the lion kings as a musical. Lion King has performed in more than 100 cities in 20 countries except for Antarctica.
While watching the musical performance, you should pay attention to a costume with a story. The spectacular costume that features the characteristics of animals, so it makes the audience imagine the story.
Purchase the Lion King Broadway Show ticket at a lower price. Make memorable memories during the musical performances in New York.

Options
1. Rear Side Orchestra/Mezzanine
2. Orchestra/Prime Mezzanine
3. Premium
What's Included
Seat ticket according to the selected option
How to Use
Once confirmed, the voucher will be sent to your email or mobile app.
Please exchange the voucher for a physical ticket at the redemption point.
This voucher is valid only on the scheduled performance date.
Please bring your passport.
Redemption Point :
Minskoff Theatre
200 W 45th St, New York, NY 10036 United States
Please find the location on Google Maps
Performance Time :
Tuesday-Thursday: 19:00 pm
Friday-Saturday: 20:00 pm
Sunday: 15:00 pm
Monday: Closed
What to Remember
Your reservation is not complete until you have received a confirmation voucher.
Refunds or changes will not be made for tickets unused within the validity period.
Seats will be randomly assigned within the selected class. Click here to check the seating layout.
When you exchange the voucher for a physical ticket, it is required to check your name (name on the passport). Please provide the accurate your name on the passport.
You may be required to check your belongings such as large bags, wallet, and briefcase. Please do not visit the theater with a large size of luggage.
The show last for 2 hours and 30 minutes without break time.
Translation service is available in Korea, Japanese, Chinese, Spanish, Portuguese, and so on. (It is available to use at the kiosk of the main lobby after making a payment.)
It is sold out very often. In the case of full booking, your reservation will be canceled automatically and fully refunded. Please check your e-mail for any updates on your reservation.
Cancellation
Once confirmed, no cancellations will be made.
Available today
Blue Man Group in New York
Available from Jul 23, 2019
The Phantom of the Opera Broadway Musical Ticket
Available today
New York Gulliver's Gate Ticket