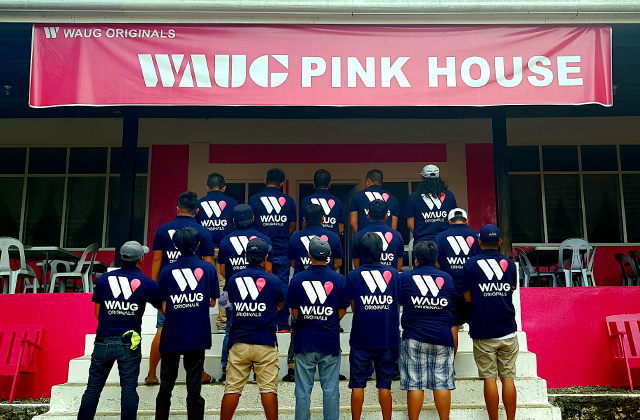 Private Tours
Island Hopping & Snorkeling Tours
WAUG Pink Kawasan Canyoneering Private Tour
US$ 64.68
Available from tomorrow
4.9

See reviews  >
Cebu >
Product
3 Days Confirmation
Duration of 12 hours
2 people
Hotel pick up
Mobile voucher
Use only on the scheduled date
Cancellation available
Korean,English
Review
116
Excellent!
4.9
2020.01.09
I really handy to you for pick-up and drop. Please guides minutes had really nice! In Korean haejusigo joke, where are you going to let me know how slippery friendly. Diving courses are really lot. From 1 meter to 15 meters! 15 m ttwisi I really like what is going to recommend haeyong Oh you arrive in the first minutes the staff had to eat caviar and former sineunde yeojjwobo whether, caviar nyeoning and what to eat instant noodles to eat caviar nyeoning nyeoning. If you eat hurts body and vigorous activity times. If you do suffer more and eating really ..! Anyway, I recommend deuryeoyo sure !!! Did halgeol to the whale shark was hesitant because the early hours of departure, doegeodeunyo sleep hours long car ride to go there. enjoy your trip!! + Take waterproof pack! There is a space to put a waterproof pack on the life jacket, and the guide will take a picture every time you come to a beautiful place on your cell phone and take a dive.
Program
Join the WAUG Pink Kawasan Canyoneering Private Tour for a full day of wild fun and excitement in Cebu! Make a heart-leaping jump from a height of 30m and enjoy a thrilling day of canyoneering in Badian with just your family, friends, and loved ones.
Put on WAUG-exclusive pink canyoneering equipment and listen closely to the informative and friendly tour briefing conducted by the tour manager. Charge up your fuel with a breakfast of Korean ramen and kimchi to begin your day packed with adventure! Hurry and book your spot to this fast-selling tour only offered by WAUG.
▲ You'll only use WAUG-exclusive pink equipment during your canyoneering adventure.
▲ A certified canyoneering guide will ensure safety as well as fun.
▲ Join the WAUG Pink Kawasan Canyoneering Private Tour for an intimate canyoneering tour with just your family and friends!

Tour Itinerary
05:00 am Pick-up at your hotel lobby
08:00 am Arrival at the canyoneering base camp, breakfast (Korean ramen + kimchi)
09:00 am Canyoneering at Badian with a certified canyoneering guide
12:00 pm Free time at Kawasan Falls (Not included if you choose canoyneering in Alegria)
13:00 pm Arrival at the base camp
13:30 pm Departure to Cebu
17:00 pm Drop-off at your hotel lobby
What's Included
Free pick-up & drop-off service (private vehicle)
Certified canyoneering guide
Korean ramen + kimchi
Admission fee and equipment (life vest, helmet, towel)
Canyoneering photography service
What's Not Included
Aqua shoes
Lunch
Traveler's insurance
Personal expenses and manner tip
How To Use
What to Remember
Cancellation and Refund Regulations
•본 상품은 구매 후 영업시간 기준 (월~금요일 10:00~18:00 / 토요일,일요일,공휴일 제외) 3일 이내에 예약 확정 여부가 결정됩니다.
•예약 확정 이후 취소 시 다음의 환불 규정에 따릅니다.
•구매 전, 약관 내용을 반드시 숙지해주시고 신중한 구매 부탁드립니다.

•본 상품은 예약 확정 후 변경 / 취소할 경우 여행약관 제5조 (특약)에 의거, 특별 약관에 따른 수수료가 적용됩니다.

-이용일 기준 21 일전 취소 시 : 전액 환불
-이용일 기준 20~8일전 취소 시 : 20% 공제 후 환불
-이용일 기준 7~2일전 취소 시 : 60% 공제 후 환불
-이용일 기준 1일전~당일 취소 시 : 환불 불가


•취소/환불 요청은 영업시간 (월~금요일 10:00~18:00 / 토요일,일요일,공휴일 제외) 내에 접수된 건에 한하며, 영업시간 외에 취소 접수 시 다음 영업일(영업시간 기준) 접수로 처리됩니다.
•예약 취소 및 환불 요청은 영업시간 내에 요청해 주신 후 취소 확인을 받으셔야 합니다.
•영업시간 기준, 이용일 2일 전까지 예약 취소 요청 후 취소 확인 없이 이용하지 않으시거나, 픽업시간을 지키지 않아 투어에 참여하지 못했을 경우 노쇼(예약부도)처리 되며, 환불이 불가능합니다.
•지정일 하루 전날 발송되는 [픽업시간 안내 및 예약확인 카카오톡] 확인 후 확인답변을 꼭 전송해주세요.
Sign Up Now and Receive $20 Value Coupons
*App Only
타겟

production
서비스

activity
버전

1.0.18